Stay up-to-date on the latest news and initiatives.
Honesdale, a charming town nestled in the heart of Pennsylvania, has recently been featured in the Weekend Edition of the Scranton Times as a "worth the drive" destination. Known for its scenic beauty, historical landmarks, and vibrant community, Honesdale offers a delightful escape for visitors seeking a peaceful getaway. The article highlights the town's picturesque Main Street, lined with quaint shops, art galleries, and cozy cafes. Visitors can explore the rich history of the region by visiting the Wayne County Historical Society and the Stourbridge Line, a restored railway that offers scenic train rides through the beautiful countryside. The town is also famous for its annual events, such as the Honesdale Roots & Rhythm Music & Arts Festival and the Wayne County Fair. With its warm hospitality, natural beauty, and diverse attractions, Honesdale truly lives up to its reputation as a destination worth the drive.
To read the article, click here.
Pedestrian safety on 12th Street, Honesdale and access to a new riverside took a step forward recently with approval of $311,207 in state funding.
The Commonwealth Finance Authority awarded the statewide local share account grant, which will be used for improving walkers' safety and river trail connectivity on 12th Street, between Church and Main Streets.
This is one of the goals of the ongoing downtown Honesdale revitalization project spearheaded by Greater Honesdale Partnership (GHP).
"This is great news for Honesdale," Sandi Levens, Executive Director of GHP said in a release. "We are happy to announce that our hard work paid off. The Greater Honesdale Partnership and the members of the Honesdale Borough Council worked together to create this grant request for the benefit of the community."
A sidewalk and bicycle lane are planned on 12th Street between Church and Main Streets, connecting the Lackawaxen River Trail to Main Street. Presently, there are no sidewalks or bike lanes along the river side.
The GHP states that parallel parking next to the river's edge makes it dangerous to exit a vehicle; 12th Street also is a traffic-thruway that is dangerous for walkers.
They also plan to restore one-way traffic to 12th Street with the eye to improve pedestrian safety, although which direction it would go hasn't been determined, Levens said. The engineer and designers for the 12th Street project will be asked to work with Woodland Design, the firm GHP selected for the downtown revitalization work.
Approval will be needed by borough officials as well as PennDOT, to ensure safety for whichever traffic direction is taken― 12th Street belongs to the borough but connects two state roadways, Church and Main Streets.Parking would be repositioned on 12th as well.
The whole purpose is to improve safety for walkers, calm traffic, and connect the river trail to Main Street's commercial downtown.
In addition, the GHP notes there will be site furnishings such as wayfinding signage, three lamp posts, four benches, two trash receptacles, changing traffic pattern to a one-way, adding ADA accessibility, four crosswalks, relining the street and parking area, split rail fence, block wall, and landscaping such as native bushes and bed coverings.
Levens told b
orough council at their meeting March 22, that as soon as they get the contract from the PA Department of Community & Economic Development, GHP can seek proposals and put it out to bid.
Councilman James Hamill stated that the awarding of these state grants shows there is "a lot of reason to invest in Honesdale" and credited the collaboration of GHP and the borough, and the hard work and dedication of persons working towards a common goal.
Mayor Derek Williams noted that in the last year and a half, nearly a half million dollars has been invested in Honesdale through GHP's efforts.
Rep. Jonathan Fritz (R-Susquehanna/Wayne) and Sen. Rosemary Brown (R-Lackawanna/Monroe/Wayne) announced the funding on March 16.
"Many have shared an enthusiasm for bettering the downtown area, and I was happy to be a strong advocate for the grant," Fritz said, "which will help improve the quality of life for local residents, woo visitors and continue the objective of making wise investments in our communities."
"These grants are an indispensable component of economic growth for this area," Brown said. "We must continue to invest in all the items that help our economy thrive… to ensure a high quality of life."
The riverside trail will lead through Industrial Point at the end of 12th Street where the Lackawaxen River bends in the shadow of Irving Cliff. An improved PA Fish & Boat Commission access is planned in this section.
A former factory building that had deteriorated and was owned by the county, was demolished in mid-February alongside the river at Industrial Point.
A park-like environment and improved parking is planned in the area.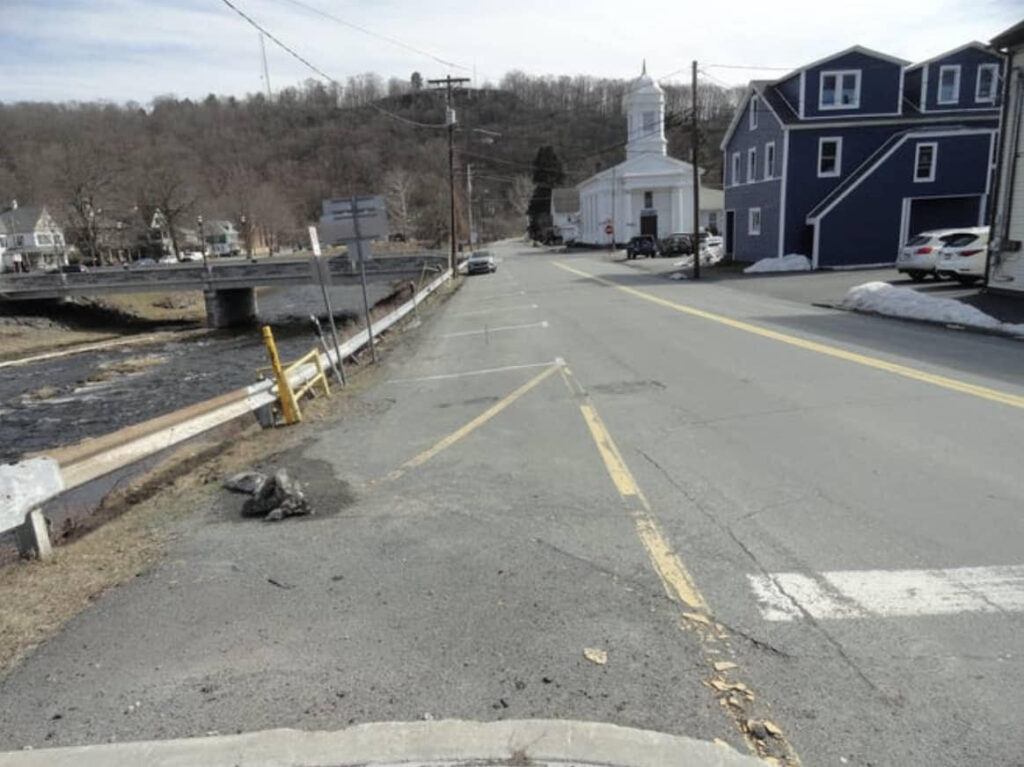 Honesdale's latest downtown revitalization effort kicked off January 12 with the signing of a contract with Woodland Design Associates, Inc. to prepare the drawings and specifications needed for construction bids.
Held at 6th and River, Greater Honesdale Partnership (GHP) gathered together various stakeholders in Honesdale's progress to celebrate this important step. The plan calls for a fresh, new look on Main and certain side streets, promising safety and aesthetic improvements for years to come meant to build business and raise Honesdale as a desirable destination.
A $175,000 state Local Share Account (LSA) grant paid for the design phase. Brian Wilken, GHP Design Committee chairman and board member, said that they sent out a request for proposals and found it clear that Woodland Design, of Honesdale was the best choice. He noted their commitment to revitalizing the town, and their work done in other towns in northeast Pennsylvania.
Jason Wood, co-owner of Woodland Design hailed the team they put together, which includes Reilly Associates, an engineering firm based in Pittston that is very experienced with streetscape projects, and North East Infrastructure, LLC of Honesdale. This firm brings expertise in electrical systems, street lighting and how this impacts streetscape design.
The scope of work looks at the most of the length of Main Streets commercial area from 5th to 12th streets. A plaza is envisioned on 6th Street between Main and Church streets, and a sidewalk installation, bicycle lane and beautification elements on 12th Street between Church and Main.
Crosswalks, sidewalk improvements, Victorian-style streetlighting and pedestrian safety, stormwater drainage work are among the plan's ingredients.
Wood said Reilly Associates surveyors can be expected on site in January, as well as Woodland Design representatives to collect elements to create a base map. Proposed options will be provided to accommodate utility companies and PennDOT.
Several public meetings will occur in conjunction with the Borough and GHP for the public, business owners and anyone with a stake in the outcome will be welcome to give input, Wood said.
He stated that the design phase goes through August to provide the materials for grant writing and the bid process.
"Jason and his team are going to transform that vision into actual plans we can actually do something with," Wilken said. "This is a real opportunity for us to change the look of Main Street for the next generation."
"To me the streetscape project means a proper celebration of Main Street as a place. Our downtown isn't served well by a pass-through highway." Honesdale mayor Derek Williams said. "It should be comfortable and convenient to walk around. Being downtown should feel accessible and safe. Downtown's design informs all these things."
Williams added that the engineering study will make Honesdale's downtown more functional. "With a focus on resident quality of life and local economic resilience, we can create a welcoming atmosphere for future residents and visitors as well," the mayor said.
To be accomplished in phases, Wood spoke generally it may cost around $1 million to do a street scape project, and several rounds of annual state grant funding may need to be sought. He suggested five years may be a good estimate, taking about a year for each phase.
Wilken stated that GHP will have to launch a capital campaign to raise donations for the matching portions the grants normally require.
"I don't envision a situation where the state to give us $175,000 to come up with a plan to revitalize Main Street and then not give us the money to do a streetscape," Wilken added. "We may have to wait our turn… to get what we need to get done."
"It takes a lot if money and odds are you're not going to get that huge lump sum to do the whole thing," Wood said. He stated he pushes for "really good industry-standard materials" which drives the price up.
Why revitalization matters in Honesdale
While developing a revitalization plan, GHP obtained a state "Designated Keystone Community Main Street" designation, which puts the town in a better position to apply for competitive grants. This designation was announced in September.
He said this is a very arduous task to be have this designation because there is much reporting to the state to show GHP has sustainability, has rules which are followed, a plan and a five-year budget.
Measurable outcomes must be shown to the state, Wood said, adding the revitalization project might be evaluated for a decade.
This designation helps attract businesses to Honesdale, Wilken said.
The former GHP director, Lisa Burns did much work on the designation process, which is being carried on by the present director, Sandi Levens.
"It's all about what we can do for our town and make a difference for the next 30 years so that …all can come to town and be proud of the town…," Wilken continued. "In my mind, there is as an aesthetic investment we need to make in Honesdale that keeps us up to par with other competition that is out there."
He referred to Jim Thorpe, Pittston and downtown Dickson City, revitalized communities which give Honesdale competition. "When we make this investment, it attracts people here… they're going to come to Honesdale to see what's going on," he said.
Receiving the state downtown designation makes Honesdale available for other grants such as the Design Challenge Grant which is funding the current commercial facade improvement program, he added. GHP is taking applications for this matching grant through June 30.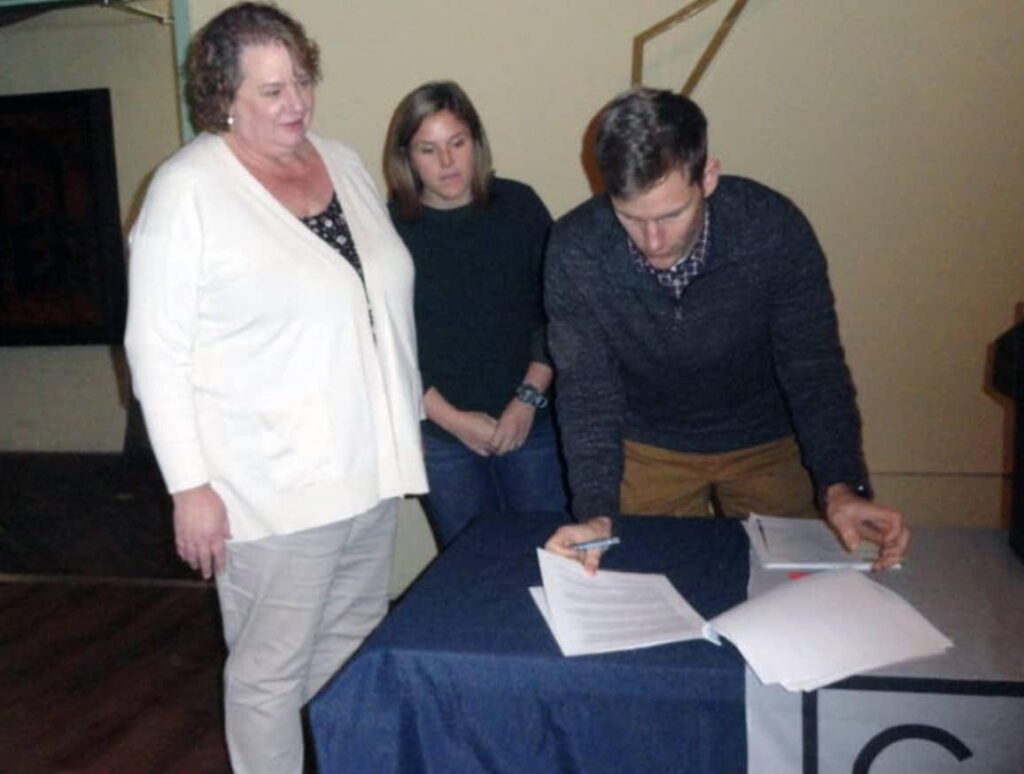 .